Scholarship Registration: Scholarship Registration made easy and simple for men and women
Scholarship Registration is the first step to obtain any legitimate scholarship, grant, or financial-aid package. Why? Scholarship sponsors must be able to locate identify scholarship recipients inorder to disburse scholarship wards. Every scholarship applicant must register their name and address. Please review our extensive category of top Scholarships for adults seeking to continue their education, as well as current high-school seniors seeking to enter college for the first time. Click here for International Scholarship Registration
Every legitimate scholarship application begins with a formal scholarship registratio process. Word of mouth scholarship registration is not acceptable. For awards, scholarships, and grants sponsored by National Academy of American Scholars, the scholarship application process commences with a formal scholarship registration form, which is below. The scholarship registration form is updated each year. The scholarship registration form below supercedes and replaces the scholarship registration form used in 2012.
Scholarships, Grants, and Financial-Aid sponsored by
National Academy of American Scholars®
NAAS®Scholarships and Grants
Scholarships and Grants for Senior
Scholarships for Moms, Women, Students

Updated: Friday, January 19th 2018, 4:22:24:PM MST


Winning Scholarships and Financial-Aid tips

Never use the words 'undecided' or 'unsure' on any scholarship application.
Check grammer and punctuation on your essay.
Visit NAAS.ORG daily for more Scholarship tips on winning big bucks.

Please be sure to register and sign-up to receive access to our online forms.

| | |
| --- | --- |
| | |
Scholarship Registration Must Be Completeed to Receive Access to Scholarship Applications and Special Phone Numbers
To receive access to Scholarships, Grants, and Financial-Aid sponsored by National Academy of American Scholars, students must first complete an official scholarship registration form that includes their name and address. Besides, why keep a great scholarship to yourself? Friends should share scholarship information with each other. By submitting the scholarship registration form below, you become an official member of our Scholarship Club, and thus you are eligible to redeem any scholarship points you may have accumulated. There are no costs to obtain a basic membership into our Scholarship Club. It is 100% FREE for all basic memberships.
We encourage students and scholarship applicants to share our favorite scholarships, grants, and financial-aid link of the day on their respective facefbook timelines, tweets, and other social-networking channels. Express your opinions about the great scholarship, fellowships, grants, and other financial-aid products sponsored by the Scholarships,Grants, and Financial-Aid channel. It is now easier than over to share the NAAS.ORG link with a fellow friend via email or FaceBook. Post our favorite Scholarships, Grants, and Financial-Aid link of the day on the timeline of a friend or share the link with a friend.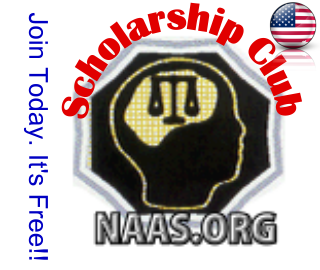 Why Scholarship Registration is Important

In order to qualify for any legitimate scholarship, a prospective scholarship applicant MUST first register for the scholarship that he/she intends to apply for. The typical scholarship registration requests name, address, and basic contact information.
The basic contact information requested in a scholarship registration is used for further communication with the scholarship application, and assigns a unique scholarship registration ID# to the scholarship applicant without the need for using any social security number. With a scholarship registration ID#, each scholarship applicant can be assured that his/her scholarship submission materials will be uniquely assigned to him/her and no other scholarship applicant with the same or similar names.
International Scholarship Registration by International students must be completed from our International Scholarship Registration link.
For up-to-date information, please bookmark this website. We encourage parents, educators, counselors, and students to explore the NAAS.ORG financial-aid website, and take advantage of the enormous opportunities. Don't let this wealth of financial-aid go wasted!! Join our Scholarship Club today.
U.S. Scholarship Registration Form for U.S. residents seeking
Scholarships, Grants, and Financial-Aid.

Security & Privacy
Every transaction on NAAS.ORG is secure. Any personal information you give us will be handled according to our Privacy Policy.
Use this form to Register for Scholarships, Grants, and Financial-Aid; to receive instant scholarship merit points; to join the NAAS Scholarship Club; and, to be eligible for monthly or quarterly drawings for scholarships, grants, and financial-aid.
All information will be verified for scholarship points accuracy.